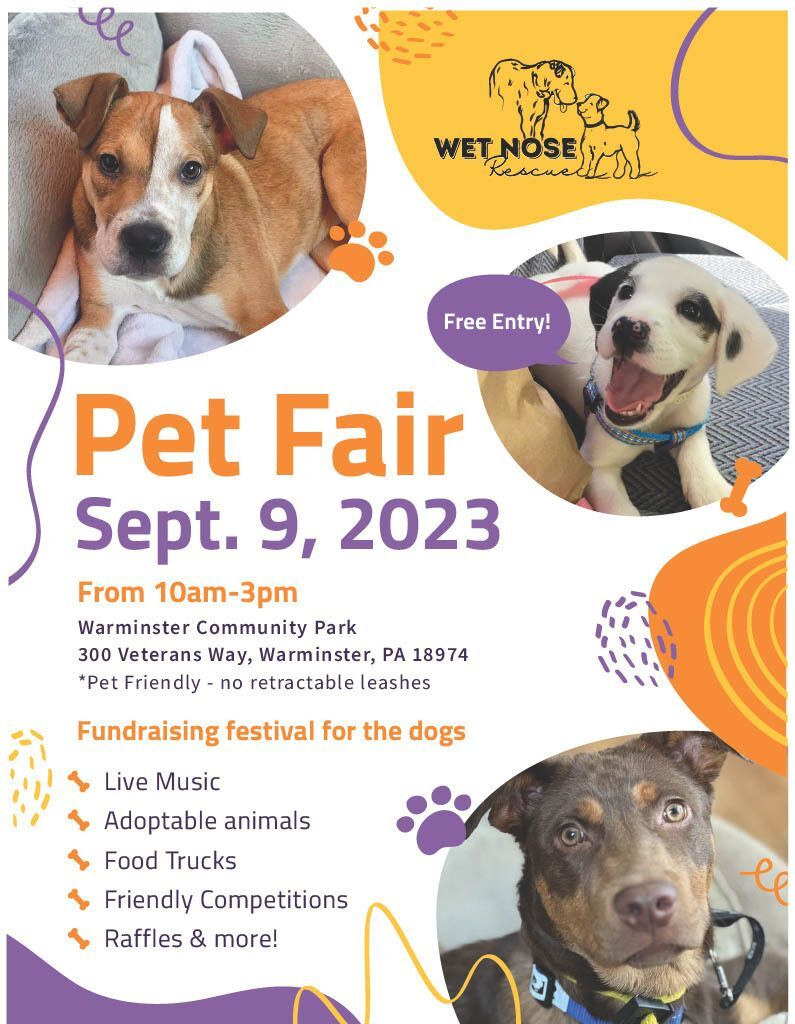 10:00am - 3:00pm September 9, 2023
We are super excited to be kicking off our 12th Wet Nose Pet Fair! While proceeds will benefit Wet Nose Rescue, we have invited several other rescues because we are all in this together (and it means more adoptable puppies!). Bring your pups along for a family-friendly event featuring live music, adoptable animals, food trucks, raffle baskets, 50/50 raffle and more!
Donations Wanted!
The rescue is always in need of dog food, treats, towels, paper towels, etc. We will have a designated area for donations at the event or you can send them to us directly through our amazon wishlist!
---
FAQ
Can I bring my pets?
Absolutely! A maximum of two dogs per handler is permitted. Any animal attending the event should be well behaved and under total control by the handler. Please keep in mind that this is an outdoor event which is attended by a large crowd. Safety of the animals and people is of the utmost importance at all times. For any animal attending the event, temperament and behavior must be known to withstand a large number of people and activity. Animals must be manageable and safe to have in a crowd of people. Avoid nose to nose contact between animals. Do not force or push any interactions with people, other animals, or children. Remove any cat that is open mouth breathing or any dog that is acting fearful. All animals must be contained via appropriate collar/harness and leash (no retractable leashes), playpen, or crate. Wet Nose Rescue and its representatives reserve the right to ask a person to remove the animal from the event if there is any unacceptable behavior.
Will there be animals at this event?
Yes! We will have several non-profit rescue organizations with adoptable pets in attendance. Our vendors may have ambassador dogs in attendance as well.
Can I donate a raffle item?
Of course! Please email events@wetnoserescue.org to let us know what you would like to donate and we will coordinate from there. All raffle items should be received no later than 7 days before the event (September 2, 2023).
---
Food Provided By
---
Thank you to our Sponsors!
PASE Emergency Vet

Fetch! Pet Care
On-Command Canine Training
Please consider supporting our Nonprofit Partners!