Wet Nose Rescue works hard to help those who are unable to help themselves.  Our goal is to help abandoned dogs and puppies that would otherwise be euthanized or subject to a life in extremely poor conditions, unloved and neglected.   Several years ago we joined forces with The Pennsylvania Division of The Humane Society of The United States, to lobby for stronger animal protection legislation in the State of Pennsylvania.  Our members have participated in the past several Humane Lobby Days in Harrisburg and worked hard to help in finally getting new legislation which finally passed and was signed by Governor Tom Wolff in 2017.  Known as Libre's Law and officially Act 10, after a little dog that was almost left for dead but then found by a truck driver and rescued, the law now makes many former misdemeanors, felonies in the State with much more severe penalties.  We will continue to lobby for increased protection for all animals.  Wet Nose Rescue is a 501 (c)3 non-profit organization, incorporated as a charitable entity in the State of Pennsylvania.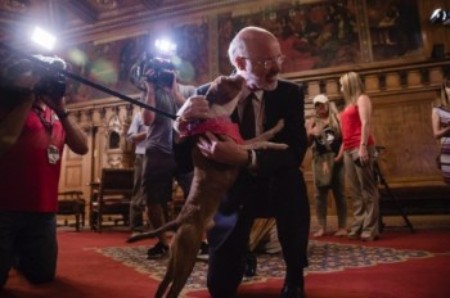 About Us
Wet Nose Rescue was founded in 2008 as an all breed dog rescue with the aim of trying to find homes for the countless numbers of dogs and puppies that are left homeless through no fault of there own.  We are a non-profit organization, made up totally of volunteers and licensed by the State of Pennsylvania. Wet Nose Rescue depends solely on public contributions for support.
Our rescue works mainly with shelters in the south that are over crowded and transports dogs to this area about once every two weeks.  We are totally foster based and even though Wet Nose has an adoption center, we don't kennel our dogs there.  Once our rescues come from the shelter, they have an opportunity to become socialized with a family, that very often has other dogs in their home. The family cares for the dog or puppy as if it were their own, until a home is found.
Wet Nose Rescue tries to do as many public and community oriented events as possible.  Each Spring we hold our annual Wet Nose Rescue Spring Pet Fair at Warminster Community Park the last Saturday in April.  We also do events such as The John Debella Dog Walk, the Langhorne Rotary Club Pet Fair and the Bensalem Fall Festival..  Each December we hold a Christmas party at our adoption center "Walking In A Furry Wonderland"  and all are invited. Each spring we hold a Beef and Beer our Furry Leprechaun Bash right around Saint Patricks Day.  Join our e-mail list to stay updated on everything we do..
Did you know that a donation of $1 buys a days worth of food for a dog that has nothing, a $2 donation buys a collar, a $5 donation buys a Bordatella shot which prevents kennel cough, a $15 donation buys a set of vaccinations for a puppy, a $25 donation buys a snap test which checks for Lyme Disease and Heartworm. Small donations of this type are so important to us.
Did you know that a donation of $60 buys a Kuranda Bed, which is a special bed elevated off the ground so a dog or puppy doesn't have to lay on the cold floor or wet ground in a shelter. A $100 donation allows Wet Nose Rescue to pay for health certification and transportation to save a life. $135 pays for spaying or neutering. $500 to $800 donation pays for Heartworm treatment for Heartworm positive dogs.
Please don't think every dollar doesn't count, because it does.
Volunteers/Fosters
We are always in need of foster homes for our dogs and puppies as we search for forever homes. If you would be willing to help this way, please complete the foster application under the "forms" tab and you will be contactted by our Foster-Coordinator. We will provide you with all the food you need as well as a crate, toys and anything else you may need. Foster familes are our life line.

We are always in need of volunteers, they are vital to an organization like ours and even the smallest amount of time you can give is greatly appreciated. Volunteers help on transport days when the dogs arrive from shelters, outdoor and indoor rescue shows and pet store events. Please fill out the volunteer application on the website under the "forms" tab and our Volunteer Coordinator will contact you.
Goods
We are also in need of blankets, towels, trash bags, paper towels, bowls , leashes and collars and harnesses. If you can donate gas cards or pet store cards, that would be greatly appreciated.
Wish List
Volunteers
Blankets
Towels
Trash bagsPaper towels
Bowls
Gas cards
Pet Store cards