Wet Nose Rescue will be starting its 14th year of finding homes for puppies and dogs that need homes in February of 2021.  We have grown steadily and have a wonderful base of volunteers and foster families that give time and effort to our cause.  we are always in search of new volunteers with new ideas to help on transport days, help during fund raising events or help behind the scenes with social media and marketing.  If you are interested in being part of this please complete the volunteer registration form on our site and you will be contacted by our volunteer coordinator.  We are also always in need of foster families who can serve as a temporary home for a dog or puppy as we search for a permanent forever home. We provide foster families with whatever food and supplies they need and take care of any medical expenses that arise.  Fosters are not responsible for finding adopters, we handle that part.  Foster families also have the first option to adopt if they fall in love with the dog they are helping and many of our families have adopted a Wet Nose Rescue dog.  We are a 501 c 3 non profit organization incorporated in the Commonwealth of Pennsylvania and a licensed State Rescue.
In this section you will find all that you need to know about our people, mission, history and frequently asked questions. If you want to learn more about our organization, just follow the links for more information. It's extremely important to us that you get to know more so that you feel comfortable working with us. Once you take the time to find out what we're all about, you may even want to become part of the Wet Nose Rescue family as a volunteer or foster family.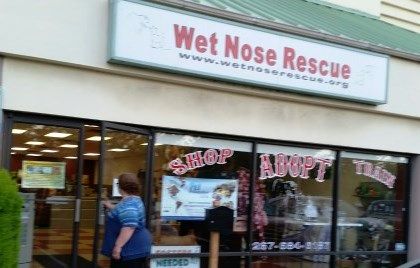 Wet Nose Rescue Teamed with NBC-10 to Clear the Shelters in July 2016
Wet Nose Rescue teamed up with NBC, Channel 10 in Philadelphia as well as all the NBC affiliates nationwide in 2016 for a Clear The Shelters Program we held an open house at our Adoption Center, Petco joined us with information and handouts, did adoptions that day of families that had been pre-approved to adopt, unfortunately we couldn't do any same day adoptions because of our reference check policy.