Welcome to the new Wet Nose Rescue website, we feel it is much improved over our previous site.  Here you will see our dogs available for adoption, submit an adoption application, learn about volunteering, becoming a foster family and get an idea what Wet Nose Rescue does as an organization.  You can stay updated on our events with our calendar and read the articles we will be posting on a regular basis.  You can also email us your questions or comments directly through the site.  Keep checking back because the site will be expanding and growing on a regular basis.
In this section you will find all that you need to know about our people, mission, history and frequently asked questions. If you want to learn more about our organization, just follow the links for more information. It's extremely important to us that you get to know more so that you feel comfortable working with us. Once you take the time to find out what we're all about, you may even want to become part of the Wet Nose Rescue family as a volunteer or foster family.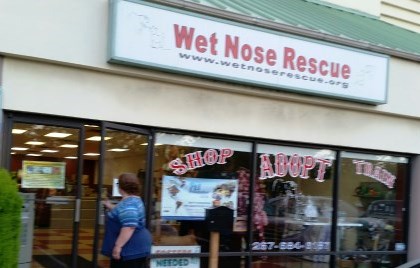 Our Adoption Center
Wet Nose Rescue Teams Up with NBC-10 to Clear the Shelters in July
Wet Nose Rescue has teamed up with NBC, Channel 10 in Philadelphia as well as all the NBC affiliates nationwide in a Clear The Shelters Program ending July 23rd.  On that date we will be holding an open house at our Adoption Center, Petco will be joining us with information and handouts, we will be doing adoptions that day of families that have been pre-approved to adopt and we will also have dogs there that are available for adoption.  The hours will be from 10 am to 4 pm, so please join us if you can.