Puppy Yoga @ 1675 Spirits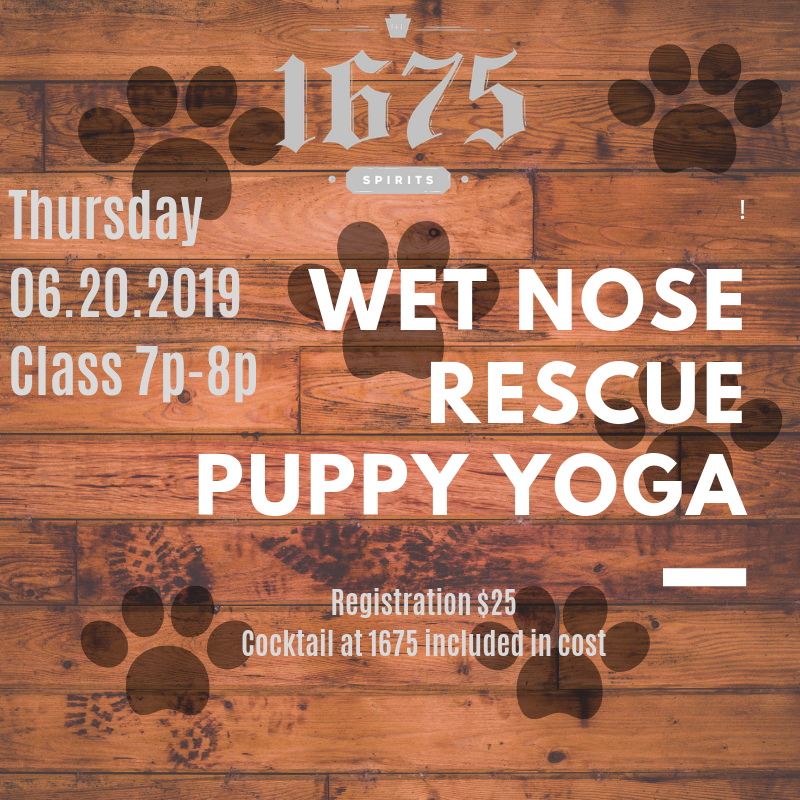 Join us Thursday, June 20th at 7pm for a relaxing yoga session surrounded by puppies.
After the yoga session enjoy a complimentary cocktail on 1675 Spirits!
Our puppy yoga will be lead by Shannon who is an awesome instructor from Open Center Yoga located in Bristol Borough! Class is appropriate for beginners to advanced practitioners. Please bring your own yoga mat and blocks, as these will not be provided on site. Please prepare for puppies to act like puppies - they bark and go potty like cute puppies do!
PRE-REGISTRATION IS REQUIRED.
All sales are final and non-refundable. Yoga will be done inside the brewery, we are only selling enough spots to fit everyone. You may transfer your registration to an alternative participant. All participants must sign an exercise waiver at the event, so please arrive at least 15 minutes early.
Parking:
1675 has a small area for parking, overflow will be directed on where to park (depending on availability)
Equipment/Yoga Mats:
Bring your own yoga mat, towels, water, blocks
Puppies:
We cannot accommodate any dogs from the public under any circumstance. All puppies attending this event will be from Wet Nose Rescue.
Waivers:
Please come a few minutes early. All participants must sign an exercise waiver at the event.
Registration:
Proceeds from registration are donated to Wet Nose Rescue's efforts to save animals. A 1675 cocktail is included within registration cost and can be redeemed after class. There will be no discount for registration if you are under the age of 21.